Livid
Livid
I am so pissed and I just need to scream for a minute.
I live in the worst part of where I live. My neighbors are from hell. We have been egged, spray painted, egged again, our cat has been shot, sea urchins thrown over the wall to our dog, etc.......
Been to court once and several calls to the police. I hate it.
We bought our house 9 years ago. We were new to town and were not as aware of what was brewing next door until many years later. Three years ago we tried to sell our house and no one was interested because of the neighbors. So here we are.
We've redone the house and it is super super cute now and we plan to stay in it until no one is in daycare and then buy in a nicer area.
The neighbor derelict boys were having a cockfight...yes...today and the chicken flew over the wall and right into my dog's mouth. Chomp. Dead bird. DH took a bag outside and made the boy clean it up so Fi doesn't get into the mess. The boy was badmouthing DH like crazy and then ended by threatening to harm our dog.
This kid was scowling at me from next door so I went over to tell him that this was his fault as he was not careful to keep his bird out of our yard and he better not threaten our dog. This kid has no parental anything and no regard for anything so he just sassed me and walked away.
I feel trapped here. I hate it. I am raising two kids next door to the dregs of society and I can't afford to move for at least 4 more years. I'm just so bummed. I have been battling with depression already and this just threw me over the edge.
Sorry. I'm just so mad right now I can't deal.
PS: Between Brian and I, we've taught all of these kids at one point.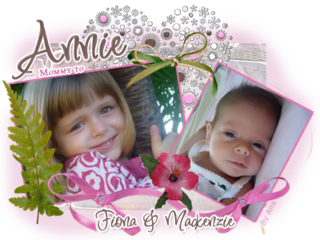 Check out our web page!
http://mackenzieandfiona.shutterfly.com
/