No more sleeping on mom- Day 1
No more sleeping on mom- Day 1
So today was the day. I am officially sick of carrying my child around all day. It is time for her to start sleeping away from me and giving me a break. ;)
After rereading MW, I decided that we are going to start with nap time. We had a really successful first day. I set her down in her pnp just before lunch (my lunch, not hers) and after less than 10 min of quiet fussing she was out. She slept for 1 hour. I nursed her and took her for a stroller ride and then sat outside looking at the palm trees for a bit. Plopped her in the pnp again and whoosh she was asleep again. Unswaddled mind you. She slept for 1 hour. She naps for way longer in the Ergo but this just needs to happen and I know the naps will get better.
We tried again at her 5pm nap and she wanted no part of it. She cried for 25 minutes and then turned on the "I'm gonna die if you don't pick me up" cry so I did. Ergo came out and she slept on me through dinner. Baby steps for all of us. Hey 2 out of 4 isn't bad for a first day.
This is going to help me IMMENSELY with Fiona. Now the baby won't always be around when I am spending time with her. Not that I don't enjoy her around...but Fi...she might think differently.
Yay Team!
PS: Have a few ideas to help with the damn dogs next door. So far white noise (and rat poison...totally kidding) is helping.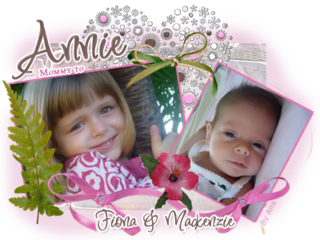 Check out our web page!
http://mackenzieandfiona.shutterfly.com
/