6th U/S and definite genders revealed!
6th U/S and definite genders revealed!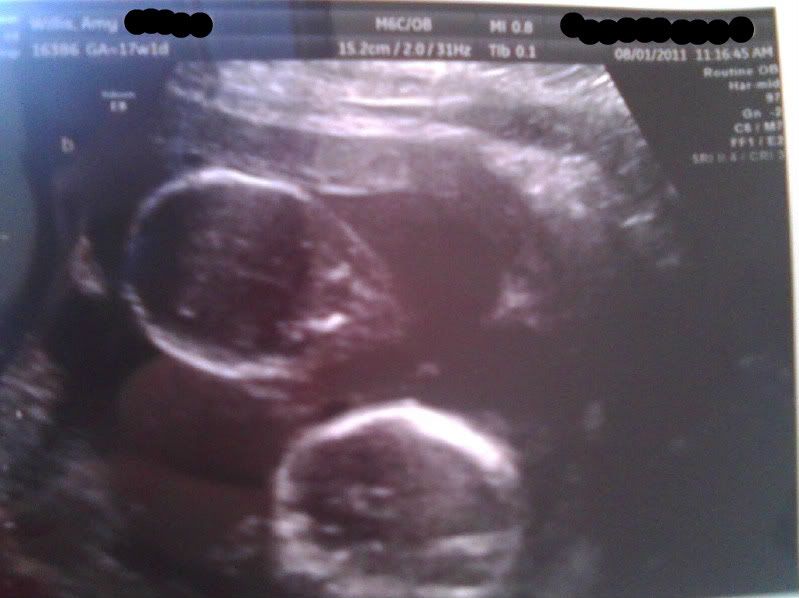 So we got to the appointment a little late but that was ok. I'd been throwing up all morning and only got about 5 broken hours of sleep. I was REALLY tired. We got in and my husband started taking little videos of the babies. She got Baby A's heart rate, 149 bpm, and Baby B's heart rate, 147 bpm. Baby A was measuring 7 oz, and Baby B was measuring 6 oz. She tried really hard to get a gender shot of Baby A, but he would NOT cooperate. She did however confirm Baby A is still a boy, our Blake Robert. She was able to point out the goods so we know for sure! He however decided us checking between his legs was completely inappropriate and rolled up into a ball, effectively blocking all views to the goods. Here he is with his head down, his spine curved, and his little feet over his head.
Baby B she looked around for a bit and the longer she looked the more sure she became. She told us that she is 100% sure of that B is. B was rolling all over and she had a really hard time getting her stats down and checking everything she needed to. She got some super cute pics of B with their hands over their head, as seen below:
We now know, without a doubt, B is a.... GIRL!!!!! Elaine Michelle!