Thursday Homeschool Recess 2/7
Thursday Homeschool Recess 2/7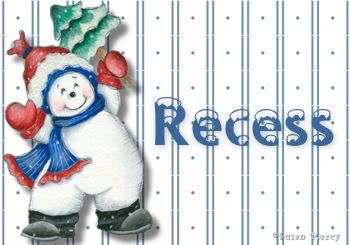 Hey moms and grandmas, come on out and play.  It's recess time!
OK, I'm just going to whine a tiny bit.  Couldn't the snow have gotten here faster...and the winter storm warning started earlier...so co-op would have been cancelled and we could have stayed at home all day?  That would have been a great idea, I think!  Oh well.  We will go out in it and have winter driving practice and do what we do best...be wild crazy homeschoolers 
DD has a new top to wear today so she's happy...and cute with her new "bow" hairstyle.  
We're all in a good mood and had good sleep.  And a good breakfast.
Stay safe if there's any snow in your forecast (which I think there isn't...I think we get the snow and other people get the rain, unless it switches over to snow for you!