Tuesday Homeschool Recess 1/22
Tuesday Homeschool Recess 1/22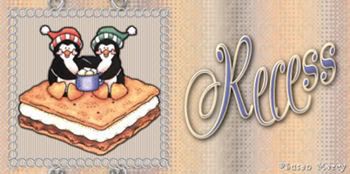 Hey moms and grandmas, come on out and play.  It's recess time!
I think everyone gets to sleep in this morning, which made everyone happy (and should keep everyone warm and snuggly for a bit longer).  This afternoon dd has a computer tech session with grandpa and her music teacher, trying to figure out how to persuade her laptop and grandpa's keyboard to speak with each other so she can more easily get music from her head into a printable form.  Then there's youth club at church, and then the kiddos separate.  DS is coming to work with me for a while, and DD is staying at church with poppa for a concert (music of the Psalms) followed by a late night dinner date.  Poor ds is going to be stuck with me until late but hey, I can't help that.  At least he won't have to walk home 
As for me, I am the designated driver, LOL.