Tuesday Homeschool Recess 3/5
Tuesday Homeschool Recess 3/5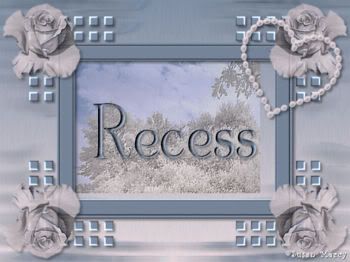 Hey moms and grandmas, come on out and play.  It's recess time!
Well, I think I might be starting to feel better.  I chilled much of the day yesterday...managed to survive orchestra...chilled much of the night at work.  I almost feel human, except for lingering congestion and coughing my chest into shreds every once in a while.  My appetite seems to be back, which is I guess a good thing, LOL.  Let's hope I sleep well today and still feel human tonight!  DH seemed much more himself last night as well, so hopefully he'll be able to go back to work tonight as well.  
Nothing on the calendar for today for the kiddos.  The snow isn't supposed to hit us, though from the looks of the map, some of you are no doubt shoveling out.  Sorry!  Trying to persuade dd to not be allergic to going outdoors.  She needs some sunshine to help her moods, imho.  Sun we are supposed to have today...and maybe even a wee bit of sap starting to drip.  Tomorrow for sure on that!