Wednesday Homeschool Recess 1/23
Wednesday Homeschool Recess 1/23
| | |
| --- | --- |
| | Wed, 01-23-2013 - 12:52am |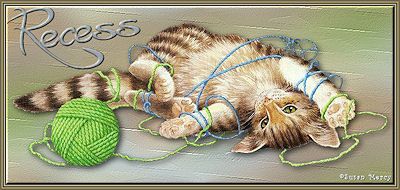 Hey moms and grandmas, come on out and play.  It's recess time!
OK, who took a picture of my kitty?  Well, she's orange and not striped...but this would totally be her, with or without the string!  She's such a silly little fat girl.  I can safely say that she has endeared herself to everyone in the family...even the one who likes cats the least!  (He did admit to missing our old cat because that cat parked himself right on hubby's chest, where this cat prefers to sit next to him on the arm of the chair.)
DD has her music lesson this afternoon, and I have to get groceries because for some reason, the people in the family seem to think I should feed them.  I don't know where on earth they got that idea, LOL.  We need fresh vegies especially...and I have a bunch of coupons that involve fresh vegies. Yay for us.  I always feel so healthy when I buy colorful items in the produce department.
I was reading some interesting things last night about right-brain learners, and wishing that the high school and college learning experience could be more right-brain friendly.  DD has so many talents and abilities and so much potential, but I worry about her ability to cope in college.  I probably shouldn't...she'll probably do just fine.  But I'm the mom and it's my job to worry, so I will do that anyway, thank you very much.  Here's one of her new songs: http://youtu.be/iuVmId9YuVk