Wednesday Homeschool Recess 2/27
Wednesday Homeschool Recess 2/27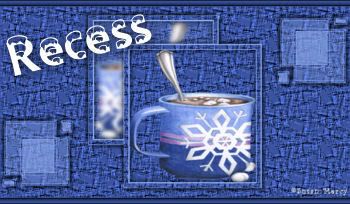 Hey moms and grandmas, come on out and play. It's recess time!
I made it work safely.  We had 3-4" of wet snow...nothing too untoward.  It's putting down a wintery mix at the moment but schools closed today so there's not a lot of traffic out and hopefully that means we won't be busy!
DS is going to go shovel for a lady on our street.  I noticed her out shoveling for two days, to clear her driveway before this storm hit.  Made me wonder where her family (some of whom live in the house right behind hers!) might be.  I'd have sent ds down there then except he was getting ready to go somewhere too!
DD has her music lesson today and then hopes to hang out with some friends for a while.  She's had a rough couple of days because of an acquaintance's suicide...sad story that I won't go into here but dd and another girl were the last ones to talk to the girl and really thought they had talked her out of doing it and into getting help 
  She's ok emotionally...it's had the effect of strengthening her resolve to live and help people, but it's still hurtful when you try to help and it doesn't work.