Wednesday Homeschool Recess 2/6
Wednesday Homeschool Recess 2/6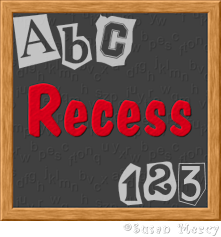 Hey moms and grandmas, come on out and play.  It's recess time!
The sun is bright but it's back to chilly temps.  My compost dish in the kitchen is overflowing but I didn't want to take it to the compost pile in the dark last night, and now I don't want to take it out in the frigid temps!  I know, I'm hard to please.  What happened to that child that wanted to compost so badly and promised to take care of the waste 
  Oh, that's right...he got himself up bright and early and is practicing with grandma now so that we can fit everything in that needs to be done today!
And today's agenda consists of...school, meals, dd's music lesson, and getting groceries.  I believe the kiddos have plans to hang out at Barnes & Noble while I shop.  I think that should be reversed.  I should get to relax...they should have to shop!  DD is feeling more confident about being at the mall (after being attacked in December) and with ds there, she wouldn't be alone.  It was her idea to try it.