Weekend Wiggles 2/2 & 2/3
Weekend Wiggles 2/2 & 2/3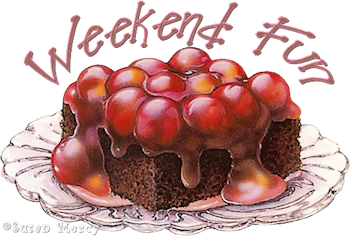 Hey moms and grandmas, come on out and play.  Weekends are for fun too!
Happy Groundhog Day!  I see that spring will be here early this year.  Bwahahahahaha.  Silly critter, LOL.  We have interesting ice here because the river flooded and then before the water receded, it got very very cold.  So there are frosted trees, branches a long ways off the ground with frosted tips, huge ice boulders hung up on trees, and many other "not usually seen" things.  DS and my dad scouted it out yesterday and had much to report, LOL. Evidently the ice that remained got very thick, too...you can step on it and not break through!  (Usually any ice left is thin and cracks quickly, though I've seen beautiful feathery patterns as a result.)
DS and I are off to church shortly and we have a nice lunch planned together when we get home, followed by making pizza dough for supper and then hopefully a lovely nap this afternoon.  I feel a headache brewing and AF is due any minute now, so I'm sure a nap will definitely be in order! 
Missing dd today but of course, she claims to be having tons of fun 
  She'll be home tomorrow night.