Sacral dimple, anyone?
Sacral dimple, anyone?
Zoe has a sacral dimple that has never been of any concern to anyone until we saw the Developmental Pediatrician a couple weeks ago. It's shallow and has no hair growing in it or any other marks. The Dev. Ped.'s nurse remarked that it was unusual because it is off-centered. She said that the doctor may want to have it imaged only because Zoe was a little delayed with her walking, but not with any of her other gross motor skills (she did most stuff early, but didn't walk until 15 months). She also was concerned because Zoe's feet over-pronate and she has to wear braces, so she felt it might be related. Here are a couple of pics of her dimple: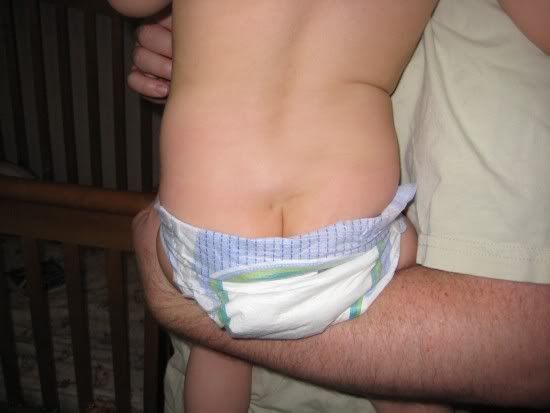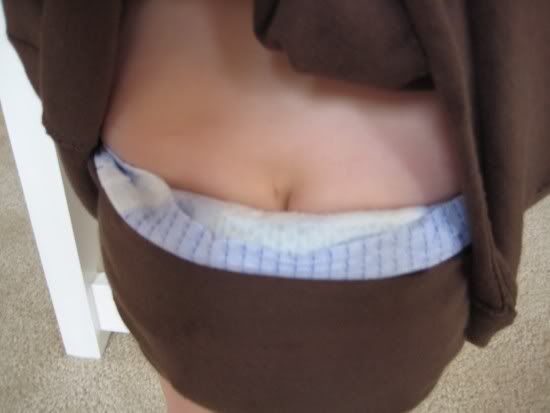 I showed it to Zoe's PT, who made the connection that it is on her left side...and all of Zoe's other problems are on her left. She had left torticollis, her left leg is externally rotated (when she's not in her braces), and her left foot pronates much more.
I then mentioned this to Zoe's regular pediatrician, and she wants us to go see a pediatric neurosurgeon who may want an MRI. I do not want to put Zoe under, unless it is absolutely critical that we have this MRI done. I don't know what to think of it all...I am worried that it is off-centered, because that must mean her spine is off-centered, right? I have severe scoliosis (43 degree curve) so I already know she has a greater risk of having scoliosis. I tried to read up on what they may be looking for and all I could really find was Spina Bifida Occulta (which also happens to have a higher incidence of scoliosis, along with leg weakness, back pain, sensory loss, incontinence, etc. I am concerned too because Zoe has shown a very high pain tolerance especially in her legs...she did not notice when she was bitten by four ants a month ago, and she had zero reaction to her toe being stuck with a needle to draw blood for an anemia check.
Sorry this is long-winded...I'm just wondering if anyone else has experience with this and knows anything about it? Our appointment with the neurosurgeon isn't until August 6th. I think this is one of those things where I'm trying to figure out exactly how worried I should be!