How can church make you feel worse!
How can church make you feel worse!
| | |
| --- | --- |
| | Thu, 12-25-2008 - 10:10am |
Hello Ladies and Merry Christmas.  I was a little missing in action yesterday.  Baking my cookies, groceries... Church. 
Church was awefull.  I usually love to see the children preform, but yesterday I realized I might never be one of the parents taking pictures or practicing lines... The the priests homily was horrid!  He started out with Most of you here have children.... And the whole 10 minutes or so (felt like an hour) he talked about the joy of this and that and feeling at peace the day the baby was born... I was doing all I could not to run out of church.  The lady next to me was crying too so I didn't feel alone (although I don't know why she was crying).  I have never felt worse coming out of church than I did going into church.  DH looked at me shorty after the homily was over and said he was sorry and put his arm around me.  It was sweet, but made me want to cry more.  After church DH agreed with me that the homily "was pretty harsh".  I never thought I would ever leave church feeling worse than I did going in.  Church is usually my refuge- my source for strength.
Thanks for listening.  The rest of my Christmas eve and day are going very well.  I hope that yours are too.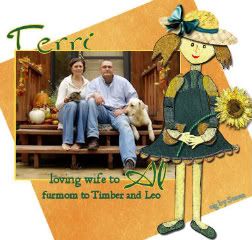 "Keep your face to the sunshine and you cannot see the shadows" - Helen Keller
DH and I are 33yo.  Been together since March 1994, Married in September 1999.  TTC since February 2002. 
DX:
  Graves Disease->hypothyroidism and functional ovarian cysts or unexplained ovarian dystfunction. 
DH DX:
  can seed an army.
Currently: No Doctors!  Just acupuncture, diet, and good Ole Fashioned lovin.