Kimmy I am thinking of you today
Kimmy I am thinking of you today
Hi Kimmy,
Just wanted to give a shout out that I am thinking of you and hoping you have a good US today.  P&PT.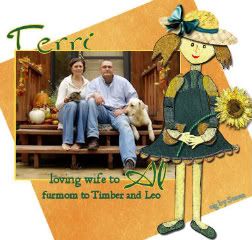 "Keep your face to the sunshine and you cannot see the shadows" - Helen Keller
DH and I are 33yo.  Been together since March 1994, Married in September 1999.  TTC since February 2002. 
DX:
  Graves Disease->hypothyroidism and functional ovarian cysts or unexplained ovarian dystfunction. 
DH DX:
  can seed an army.
Currently:
  Femara for cd 3-7, follicle study 10/29, HCG trigger likely 10/29,  IUI likely 10/31- yup Halloween- will it be a trick or a treat?