A little prayer for you
A little prayer for you
The lady reading this is beautiful, classy and strong, and I love her. Help her live her life to the fullest. Please promote her and cause her to excel above her expectations. Help her shine in the darkest places where it is impossible to love. Protect her at all times, lift her up when she needs you the most, and let her know when she walks with you, She will always be safe.
Love you Sis!!!!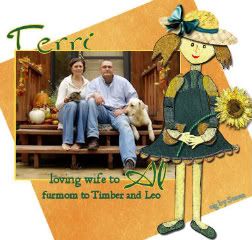 "Keep your face to the sunshine and you cannot see the shadows" - Helen Keller
DH and I are 33yo.  Been together since March 1994, Married in September 1999.  TTC since February 2002. 
DX:
  Graves Disease->hypothyroidism and functional ovarian cysts or unexplained ovarian dystfunction. 
DH DX:
  can seed an army.
Currently:
  Femara for cd 3-7, follicle study 10/29, HCG trigger likely 10/29,  IUI likely 10/31- yup Halloween- will it be a trick or a treat?  It was a big trick.  My follies hemorrhaged and are now considered cysts.  The cycle trigger and IUI are cancelled and I will be on forced break again (BCP) next cycle.