MIL does it again.....
MIL does it again.....
Ok so you might remember last week I got an email from MIL telling us she won't be up next weekend, bc she wants to be around for SIL labor.... Well DH was talking to other BIL and it turns out MIL is going to their house to celebrate christmas next weekend.  So she cancelled on us to go to the sibling with kids!  Now I am feeling even more second rate....
I was ready to forgive her for wanting to be home for SIL, bc she might be taking my Niece while SIL is in labor. But now to hear she is traveling just as far to see the other grandchildren!  Oh an they were just down there the weekend before christmas for nieces birthday! 
And my christmas gift from her sucked.  Hot pad/dish towel that doesn't even match my kitchen (I am particular about that and she knows it) and a pair of gloves (I already have a pair of black gloves that she bought 2 years ago).   She had my whole amazon book list, I would have loved just one $5 book.  Or nothing at all would have been fine now.  Anyone want a red hotpad set with a snowflake on it?  It doosn't match my burnt orange and musturd accented coffee house motif.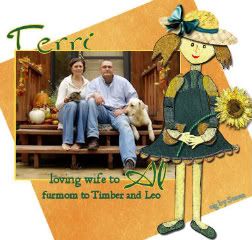 "Keep your face to the sunshine and you cannot see the shadows" - Helen Keller
DH and I are 33yo.  Been together since March 1994, Married in September 1999.  TTC since February 2002. 
DX:
  Graves Disease->hypothyroidism and functional ovarian cysts or unexplained ovarian dystfunction. 
DH DX:
  can seed an army.
Currently: No Doctors!  Just acupuncture, diet, and good Ole Fashioned lovin.