MIL GRRRRRRRRRR
MIL GRRRRRRRRRR
Ok so my MIL has emailed me a few times in the last week always refering to my SIL.  Usually it is- I was going to blah blah blah but "With SIL expecting anytime next month I really want to be closer."   Thanks for rubbing that in my face!  And then to top it off.  They didn't ship our christmas gifts out bc they were going to come up next weekend.  Well now bc SIL is expecting they are not coming up to see us so she is shipping gifts today!  I don't even care if I get a gift, but I shipped ours to them so they had them on christmas... They could have done the same.  So I am getting my presents late and now we are second rate for visiting bc of SIL. I hope this doesn't mean that when we have our child she will be moving up for the month it is due!  (SIL is due Jan 27th) BC I really don't want her around right away.  I am just irritated. 
And I know when she does come up after baby comes along I will have to look at her pictures and hear all about it.  She knows we are having a hard time.  It took my ILs 10 yrs to have kids themselves.  I would think she would know better than this....but no.  If her visit (when it happens) does end up as I predict, I will say something and I will likely be back to being the black sheep in the family, but I just don't want to deal with it! Oh yeah my MIL hated me up until about 2 years into our marriage (thats 7years of being together).  She told my SIL we wouln't make it past a year together.  I find this so ironic since DH and I have the strongest marriage of all the siblings.  His Brother cheated on his wife, his sister and her hubby always argue and spend more weekends apart than they do together bc of the fighting, and his youngest brother just does what his wife tells him to do.
PS if anyone watches Everybody Loves Raymond... MY MIL is exactly like Marie- Ok I feel better now.  Thanks for reading my vent.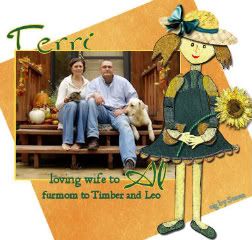 "Keep your face to the sunshine and you cannot see the shadows" - Helen Keller
DH and I are 33yo.  Been together since March 1994, Married in September 1999.  TTC since February 2002. 
DX:
  Graves Disease->hypothyroidism and functional ovarian cysts or unexplained ovarian dystfunction. 
DH DX:
  can seed an army.
Currently: No Doctors!  Just acupuncture, diet, and good Ole Fashioned lovin.