Trick or treat?
Trick or treat?
| | |
| --- | --- |
| | Thu, 10-30-2008 - 10:22am |
The answer big trick.  I went in yesterday for my CD10 follicle study to find that my follies are no longer follies.  They hemorrhaged and are now considered cysts.  There is less than 1% chance there is still a viable egg.  So my trigger and IUI have been canceled for the cycle and next cycle I will have to be on BCP again to relove these buggers.  My acupuncturist worked on resolving them for me and maybe I will be cyst free at the end of this cycle, but I am taking the blessing in disquise forced break and going to work on my diet (I cheat a little and really need to be 100%), my health, and my sanity. 
I was really bummed about it yesterday and even had a hard time coming to the board.  I am doing much better today now that I have come to terms with it.  I will be sending all of my baby dust your way and hope that one of you if not more see your bfp this cycle.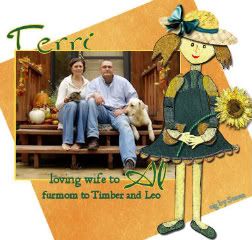 "Keep your face to the sunshine and you cannot see the shadows" - Helen Keller
DH and I are 33yo.  Been together since March 1994, Married in September 1999.  TTC since February 2002. 
DX:
  Graves Disease->hypothyroidism and functional ovarian cysts or unexplained ovarian dystfunction. 
DH DX:
  can seed an army.
Currently:
  Femara for cd 3-7, follicle study 10/29, HCG trigger likely 10/29,  IUI likely 10/31- yup Halloween- will it be a trick or a treat?  It was a big trick.  My follies hemorrhaged and are now considered cysts.  The cycle trigger and IUI are cancelled and I will be on forced break again (BCP) next cycle.