Another pregnancy announcement...but
Another pregnancy announcement...but
....it's not me.
My coworker just announced this morning she's going to be a grandma. She's my mom's age (mid 40s). I really am happy for her. But her DIL & son were not even TRYING yet. I tried to hold it together, but I broke down 3 separate times, lol.
My other coworker is so dear to me...my Dear Coworker, I'll call her. She's also my mom's age, but she didn't get pg for 5+ years with her DD! So she definitely knows how it feels. I went to see her this morning and she said to me "I just really need some good news right now". So I said "Well, I don't have any, but.... ---- is going to be a grandma." And Dear Coworker just said "Aw hunny, everyone else in the world...!" (as if to say everyone else is getting pg) and gave me a huge hug. And I just couldn't help but choke up. But she SO gets me. I'm so grateful for her.
I was late coming back from my lunch because I was talking to my mom (and crying, lol). I felt really bad being late and explained to the teacher (my boss, but also my friend) that I was talking to my mom and lost track of time and she said "Oh, is everything ok?" I HATE THAT QUESTION! I broke down, so we hid behind the piano while the kids read and I just cried. I couldn't help it! I know I'm going to regret breaking down like that later.
I hate that I can't get over this. I wish I could change how I feel. We're only on our first cycle...and I don't know yet if I'm pg or not...I just don't have any hope for it since it's our first try. But I've wanted to be pg for so long, it feels like we've been trying for that much longer. And my biggest fear is all these pg women I know right now (due in the fall and winter) are going to give birth and we'll still be TTC. If I can't handle them announcing that they're pg, what's gonna happen when the babies are actually BORN if I'm not pg yet?! Ya know?
I just needed to get that out....again. LOL. I usually need to vent multiple times before I feel ok.
Just 3 more days of school and I won't be reminded every day how I'm the only one who is not pg that wants to be....there are 2 grandma-to-be's now at work on top of the one who just had son #2, and one who is pg with #1. UGH!!! 4 stinkin' daily reminders. And that doesn't even include friends at church & outside of work.
I hope I get a BFP...not just because I want it, but so I can look back and laugh my butt off at how emotional I'm being right now.
-Kenna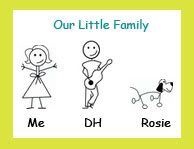 http://www.fertilityfriend.com/home/2b0ef2
TTC#1, Cycle 1
-temping since Aug '09
-secretly hoping the contraception would fail since April '09 (when cousin announced her BFP)
-finally got DH on board Feb '10!