Frustrated
Frustrated
I was afraid this would happen. I had EWCM 2 days ago...none that I saw yesterday. CP is med/low and soft today & I saw EWCM again today. We're leaving for a camping trip w/my family today, so we decided we'd BD before leaving. Well, DH just couldn't "get there". He said he'd either feel nothing or it hurt. I wanted to cry, but I held it in. He hasn't gotten much sleep lately, so he's taking a nap and we're gonna try again and just not worry about getting to the campsite *on time*. He wasn't feeling rushed for time, but I kinda was (not that I was telling HIM that). I think he just needs sleep *fingers crossed*.
I was feeling so relaxed and happy today...now I want to break down. And I know feeling stressed will make things all the more difficult for us to get pg. And the vicious cycle goes on....
I'm hoping that venting about this and getting it out of my system will help me relax. I don't have anyone I can talk to about it and talking about things is how I cope & get over stuff.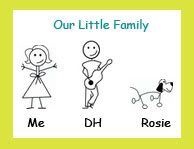 http://www.fertilityfriend.com/home/2b0ef2
TTC#1, Cycle 1