I'm tired, so I'm fighting back
I'm tired, so I'm fighting back
I reached my breaking point today. I've still been struggling w/jealousy of a friend who's pg. She's now 4 months along and I saw pics of the nursery someone else posted and again, I got a sinking feeling. Then it hit me...I'm SO tired of it! I'm tired of not wanting to see her for fear of breaking down. I'm tired of trying to avoid hearing about her. It's really ridiculous of me. Being jealous isn't going to make me pg any faster...plus, I feel so bad for treating her this way (not that it's been obvious to her or anything).
Last weekend at my church, the message was on jealousy. He started out with talking about Sarah and Hagar...Sarah was jealous of Hagar for being pregnant. That theme continued on throughout the family history. Could that have possibly hit any closer to home?! He obviously related it to jealousy in other areas, too. He gave some advice for combating jealousy and the main thing that stuck out to me was to be generous...even if it's just praying for them.
So, that's what I'm going to do. I'm gonna fight this. I'm tired of these negative emotions!




-Kenna


Check out my blog about our new place! I'll be updating as the renovations are made :) http://ourlittlenest1.shutterfly.com/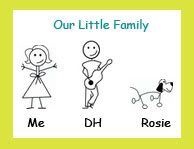 http://www.fertilityfriend.com/home/2b0ef2




TTC#1, Cycle 2

-temping since Aug '09

-secretly hoping the contraception would fail since April '09 (when cousin announced her BFP)

-finally got DH on board Feb '10!