Teeny, tiny moving rant
Teeny, tiny moving rant
We're moving today and I'm getting annoyed that I basically did/am doing most of the packing. I try to remember that DH has been working hard (except for the last few days he's had off). There's still more to pack, but he's on the computer. *sigh* I just want to be done with this move!
And, of course, I think AF is on her way. Why does she always have to be the proverbial rotten cherry on top of the month-old cake? Her timing is just awful.
-Kenna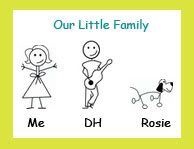 http://www.fertilityfriend.com/home/2b0ef2

TTC#1, Cycle 1

-temping since Aug '09

-secretly hoping the contraception would fail since April '09 (when cousin announced her BFP)

-finally got DH on board Feb '10!