DH and the mouse
DH and the mouse
So, I thought that I'd share this with you if you needed a laugh and it would help us get closer to that 700,000 posts goal.
Last week I noticed a mouse had been on my stove. I think we all know how we can tell. I tell DH and he sets a trap. Next morning the trap has been sprung but no mouse. This happens 3 more times. We have the kind of trap where the mouse has to lift a cover off the bait and that signals it to spring. DH positions the bait a little better, uses a nut and covers it in peanut butter. The mouse escapes another 3 times. Now DH is extremely mad. He changes tactics and goes for the sticky glue trap. Hooray! I find the mouse sprawled out on it at 1100pm. I tell DH. He decided that he was tired and he would take care of it in the morning. Bad move. Next morning, guess what happened? No mouse on the trap! Only a bit of fur. DH was infuriated! We have set out another sticky trap complete with a Warfarin pill DH had left over from chemo days wrapped in peanut butter (DH: "I'm not messing around") but have not seen the mouse since.
I think the mouse won. DH is convinced that this is some super-strong mouse and really really wants to catch it. DH was surprised that the mouse was able to pry itself off the trap. So was I! Perhaps the mouse will stay away now. DH has been checking the trap every day and is always disappointed to find it empty. Men!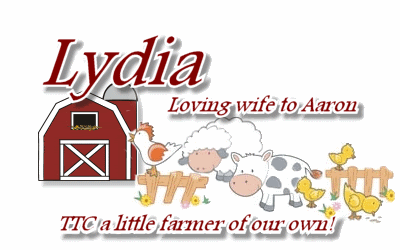 Thanks to cheryl2005 for the siggy!
Me(30), DH(30)...Our TTC journey:
~1993: Dx of bicornuate uterus (BU) on u/s
September 2003: begin wedded bliss! (on BCP)
Fall 2007: HSG results consistent with BU
Fall 2008: here we go, bye-bye BCP
November 2008: DH in hospital, ?CP/horrid AF
Winter 2008: back on BCP
Spring/Summer 2009: last chemo, radiation for DH
January 2010: bye-bye BCP, waiting
March 2010: green light to TTC
April 2010: BFP (4/1), beta ~900 (4/2)
May 2010: m/c (5/30) @12w5d
June 2010: regrouping, septum (SU) vs. BU
July 2010: looks like surgery this fall