back from the RE
back from the RE
I feel like I walked out not knowing much more than when I walked in. Blah. So he walks in, opens my chart, hands the pic from my HSG to his Resident (she says "wow") and he says, "Ummm..." I think we weren't off to a great start.
We talked about the surgery and he answered my questions. What I really wanted to know was when I will have surgery and he couldn't tell me. Basically I have to wait to hear from scheduling. They should be calling within a week to tell me when.
I did find out that I can expect to take 3-4 days off work, be on estrogen for 2 months after surgery, resume my prenatals right after surgery, and wait 3 months after surgery to TTC. DH is going to flip! I thought it was going to be 2 months. Well, the RE says if it is a septum it's a big one and I need to give myself time to heal. I understand but I'm frustrated too! That will put us back to TTC after my EDD. :-( What will irritate DH is that if I become pg right away the EDD would be after he starts the next school year.
It sounds like I will have a pre-op appointment as well. Funny, I thought that's kind of what today was. Ok, yeah the RE was going to review the sonohystogram results. He was very rushed today, so that part went like this:
"What did the RE performing the test say?"
"She thought it looked like a septum"
"Yeah, and it's big so this needs treated"
Normally, he's great. I think he was just behind schedule making him rushed trying to get to his afternoon surgeries. I pretty much know what's going on and apparently will have another opportunity to meet.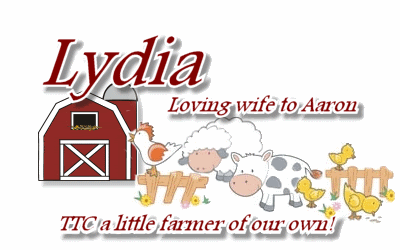 Thanks to cheryl2005 for the siggy!
Me(30), DH(30)...Our TTC journey:
~1993: Dx of bicornuate uterus (BU) on u/s
September 2003: begin wedded bliss! (on BCP)
Fall 2007: HSG results consistent with BU
Fall 2008: here we go, bye-bye BCP
November 2008: DH in hospital, ?CP/horrid AF
Winter 2008: back on BCP
Spring/Summer 2009: last chemo, radiation for DH
January 2010: bye-bye BCP, waiting
March 2010: green light to TTC
April 2010: BFP (4/1), beta ~900 (4/2)
May 2010: m/c (5/30) @12w5d
June 2010: regrouping, septum (SU) vs. BU
July 2010: looks like surgery this fall