quick surgery update
quick surgery update
I just took a Percocet. So, things took a little longer than expected in the OR. It turns out I did have a septum, not BU. The RE told DH he "got it"!!!! I'll have my post-op in about 2 weeks and we think another sonohystogram in 5 weeks to see how it looks. DH said the RE also found multiple polyps and was able to get some but not all (D/T could only put so much fluid in me, said DH) and wants to do another procedure, sounds like maybe just the hysteroscopy to get the rest of them. That has me a bit worried. DH wasn't too sure, so I'll see what the RE says at the post-op appointment. The RE said everything else looked good.
Oh, pain wise--- my biggest ouch is from the gas. When I first woke up it wasn't bad. I started to feel it when I arrived home. It's been in my shoulders and around the ribcage, which really hurts. I also threw up after getting home. Yumm, strawberry jello on the floor, poor DH. My nurse SIL came by today and removed my band-aids. She said the incisions looked good. I was able to go to the bathroom without any help today. My dad said, "Wow, you're a big girl!" Ha, ha. I'm moving around a little better and will try to sleep in my own bed tonight.
Ok, I'm starting to feel the Percocet. Think I better sleep.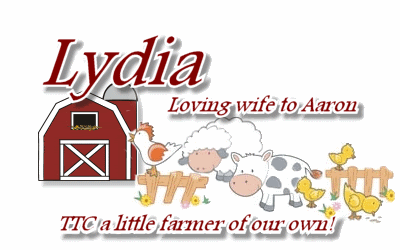 Thanks to cheryl2005 for the siggy!
Me(30), DH(30)...Our TTC journey:
~1993: Dx of bicornuate uterus (BU) on u/s
September 20, 2003: begin wedded bliss! (on BCP)
Fall 2007: HSG results consistent with BU
Fall 2008: here we go, bye-bye BCP
November 2008: DH in hospital, ?ChemPg/horrid AF
Winter 2008: back on BCP
Spring/Summer 2009: last chemo, radiation for DH
January 2010: start prenatals, waiting
March 2010: green light to TTC, see ya BCP
April 2010: BFP (4/1), beta ~900 (4/2)
May 2010: m/c (5/30) @12w5d
June 2010: regrouping, septum (SU) vs. BU
currently: verdict: SU, resected!