Broken hearted
Broken hearted
This may be long, but I just need to get it out. We had to put Thor, our big loving English mastiff, to sleep this morning.
When we got home from our trip last Thursday night, Thor just wasn't acting like himself and his belly was even more distended. Our dog-sitter (who is my friend and co-worker) said he hadn't eaten much all week. We went to our regular vet first thing Friday morning and they found he had fluid in his abdomen, but they weren't sure why (he didn't fit well on their x-ray table to do more films). So we took him home and he wouldn't get out of the truck bed, so I sat with him until it was time to take him to the emergency vet in the afternoon.
They did an ultrasound when we got there and found he had fluid around his heart caused by a tumor, so they drained the fluid and we made plans for surgery to put in a permanent internal drain this week. Well, he wasn't doing better on Saturday, so we took him back and they drained more fluid from around his heart and 5 liters of fluid from his belly. I worked Saturday night, worrying about him all night.
By the time I woke up Sunday afternoon, it was clear to me that we were not going to make it to surgery on Tuesday. My DH though was still optimistic and didn't even want to talk about the options. He called me at work to tell me that Thor was restless and searching the house for me--he went to lay down in the guest room where I sleep on the weekends and next to my side of the bed in our bedroom. I knew his restlessness wasn't a good sign. DH had to rush him to the emergency vet on Sunday night while I was at work, and he said the poor guy was barely breathing when he got there. They were able to get him back and drained more fluid from around his heart. DH let me know what was going on, and I left work to be with him. Our dog-sitter (who calls our dogs her boyfriends and is very attached to them) met me at the hospital and sat with me for a bit. Then I went home to try and sleep a little before DH and I would go back this morning. I gave Thor strict instructions to hang on until we got back. Of course, I couldn't sleep and ended up making some homemade modeling clay to take a pawprint.
So we cried the whole drive over and sat with the big lovebug of a dog to say goodbye. I laid down on the floor with him like I used to do, and he gave me a few last kisses. It was the hardest thing I've ever had to do to get up to get the vet to tell her we were ready to put him to sleep. She came in and gave him the meds while she cried right along with us. He went to sleep peacefully with his head in my arms.
I know it was the right decision because he was suffering, but I still feel like I failed him in some way. I can't stop thinking that if we'd caught it sooner, maybe surgery could have saved him. But he was an old man, and just grew tired of fighting. He was a happy playful dog for the 6 years we were lucky enough to have him in our lives. That's how I need to try to remember him, and I'm sure I will in time, but right now it just hurts so much that he's not here.
I think what made it even harder was seeing my poor DH so upset. He cried more today than I've ever seen him cry in the 10 years I've known him, more than with the death of my grandparents or even his grandfather. He left today on a business trip, even though he wanted to cancel it so I wouldn't be home alone. We both decided it would be better if we both stayed busy. The house just seems so empty with both him and Thor not here.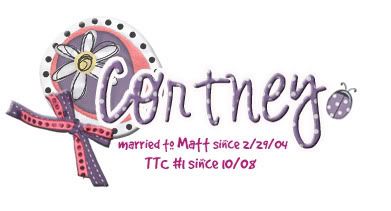 Thanks Joelle (mrsmoejoe) for my cute siggie!
Check out my blog!