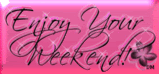 Awww!!! Its the first Friday of the month, and the start of a wonderful weekend. YAY!!! Today I don't have much planned, and for once I'm actually pleased because its just the way I want it. I'm just gonna relax and go through some magazines and see what I wanna keep and what I wanna toss out, after some much needed pampering. I take bride and enjoyment in doing my own nails! Tomorrow I'm gonna do a little shopping and then tomorrow night me, my mom and some friends of ours are gonna go and see Valentine's Day and then maybe out to eat after the movie. Sunday is the Oscars and I'm really looking forward to that since they are the SuperBowl of all the award shows!!! So with that in mind...
What plans do you have the weekend?
Going out to eat?
Going or staying home to watch any good movies/DVDs?
How any shopping?