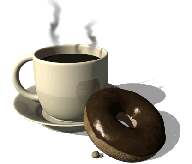 Good morning everyone!!! I have a fresh pot of coffee or tea if you need a little extra oomph to start your Friday morning. I'm sooo happy that its Friday...finally...Girl's Night Out at the Cheesecake Factory. I can't wait. Then tomorrow afternoon I'm going shopping with my sister at the mall, and just catch up. I haven't seen her in quite some time so I'm really pleased about meeting up tomorrow.
So what do you have going on this weekend?
Any shopping left before the end of the holiday shopping season is over?