Hi girls,
I've only just noticed it's been a week already and I still haven't updated on here. Thing is, I still haven't written out my birth story, but I'll give you the jist of it for now!

Albert Miles Laurence was born on 1 June 11 at 2.14am, weighing 10lbs 0.5oz and 21.5in long.
He was born via emergency cesarean section after a natural (non induced) labour, due to cord prolapse.

We are both doing well (him more than me, I hate the recovery from a c-section) and thankfully the breastfeeding is going smoothly without any problems this time!
Teddy adores Bo and is the best big brother ever; no signs of jealousy!

Just one word about cord prolapse as I'd never heard of it before it happened to me. This is when the umbilical cord slips out of the cervix before the head, and with every contraction the head squeezes the cord against the bony pelvis, thus cutting off oxygen and blood supply to the baby. It is very rare ( 0.25% chance) and has a fairly high mortality rate (11-17%), and because of it's nature can also lead to disabilities / brain damage. There are certain factors that can put you more at risk, though none of them applied to us (multiples, breech presentation, high fluid levels, premature labour, low birth weight).
I'm so glad that Bo came out unharmed - in fact, his Apgars were 10,10,10 so no worries there!
edited to add a few photos:
Grumpy face
[2]
Teddy cuddle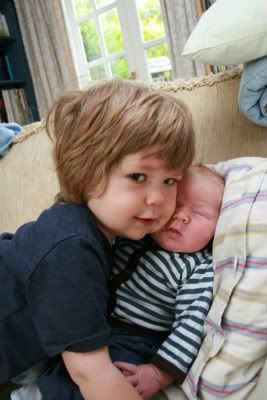 [3]
Proud big brother!
[4]
Turns out my intuition about his hair was sort of right. He's got half as much as Teddy had, and it's a funny strawberry blonde - not quite ginger!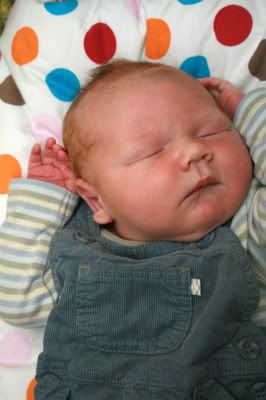 [5]