From ABC News [2]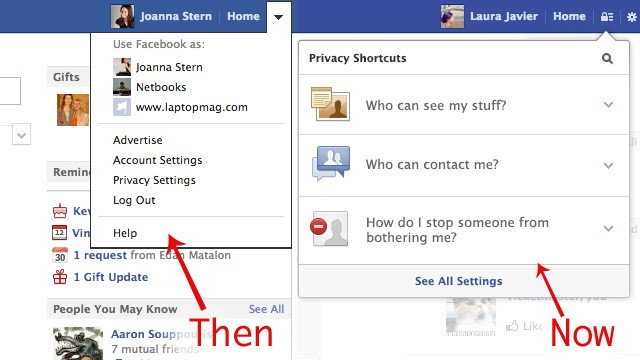 The social network is announcing today a series of changes to its privacy controls. They will start rolling out to all Facebook users before the end of the month.
There it is!
One of the biggest changes is to the discoverability of the privacy control menu. No longer do you have to go to a small, buried menu setting to find the privacy setting menu.
Now there will be a privacy shortcuts menu with a small lock icon added right to the upper right hand corner of every Facebook page. Click on that and you will see a larger box with simple to understand privacy options, including "Who can see my stuff?" and "Who can contact me?"
"This new menu has the key settings that are the most relevant and important to people. The idea is that privacy follows you around on Facebook," Nicky Jackson Colaco, Facebook manager of privacy & safety, told ABC News. "We want it to feel like something that is with you all the time," Colaco added. Right from the shortcuts menu you can also now easily search the Facebook Privacy help center.
Colaco said Facebook is trying to get rid of the fine print throughout the site. Navigation has been improved on the left side to make it easier to find settings. While there are some good changes, some important settings are still buried, including the tool that lets you view your account as another person. (That's still easiest to get to by going to your Timeline, clicking the arrow next to the Activity Log button and selecting "View As...")