New Town Bee published an interview with Sandy Hook School principal who was dead already and then took down the article.
Sandy Hook massacre: Official story spins out of control
Niall Bradley
Sott.net   Tue, 18 Dec 2012
The Newtown Bee
December 14, 2012
Sandy Hook School Principal Dawn Hochsprung told The Bee that a masked man entered the school with a rifle and started shooting multiple shots - more than she could count - that went "on and on."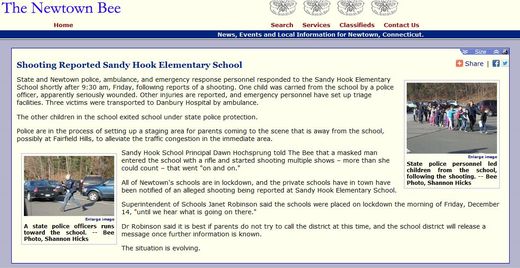 How could the principal have survived to give this statement to local press describing what happened ... if she was one of the first to be killed? Incidentally, The Newtown Bee's article was taken down yesterday. Of course, a plausible explanation is that a reporter mistook another teacher for the principal.
http://www.sott.net/article/254873-Sandy-Hook-massacre-Official-story-spins-out-of-control [2]