I know that at our age, grays can sometimes be a problem. I wondered if any of you color your hair? If so, I have a few questions.
-How often do you color or touch up your roots?
-What type of shampoo/conditioner do you use?
-Do you do it yourself or do you go to a salon?
-If you do it yourself, what brand do you use?
I have very dark hair, so my roots show up like crazy....I personally hate it, so I do color mine, often.
Thanks for your input :)
Well Being (=) Equals a well heart, mind and soul.
My Photo Blog [3]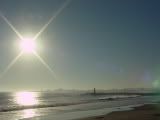 [4]
Capitola Beach