For those of you breastfeeding, how long are you planning to do so? I put this in the hot topics section because it seems to be a charged issue, particularly if you decide to breastfeed for an extended period of time.
Originally I thought I'd be happy to just make it to 6 months. Now I'm thinking I'd like to breastfeed for Noelle's first year. A friend of mine just told me she plans to breastfeed for the first two years of her baby's life. I've been looking at different arguments online about extended breastfeeding and am just curious about what others are thinking. It seems like there is also the balance of introducing solid foods at some point and also fulfilling the baby's needs for milk. I haven't done much research on this part yet so I'm curious what the BTDT breastfeeding moms think.
I think my husband will be supportive of breastfeeding for up to a year, but I'm not sure after that. And I know it weirds him out a little when a baby is very active and able to dive in for the feeding themselves (as opposed to this point where they are still pretty helpless). My mom supports breastfeeding, but I'm not sure if she'll be very supportive of it past 6 months. I don't think my mother-in-law understands breastfeeding at all and has already made comments with raised eyebrows about how "attached" I've been to the baby. Of course my husband's support is really important and my mother and mother-in-law a little less so, but I know it will be difficult to continue breastfeeding after losing the support of our parents, especially if they make many comments about it.
Anyway, this may have been discussed before on the EC board, but I was just curious about what those of you who are still actively breastfeeding have decided to do (if you've even decided yet!)
Lee
[2]
Photo Tinks by WiddlyTinks.com
[2]
[3]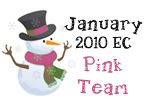 [4]

[5]