Gift Certificates from Planned Parenthood!
http://www.wishtv.com/dpp/news/local/region_1/Gift_certificates_for_Planned_Parenthood [2]
I'll say the same thing I did on my PG, where this was posted to catch my attention.
Seems an odd marketing tactic, but I can certainly see the intent. There are many times when I wish I could have handed a $25 gift certificate to PP to certain friends or family members so they could go buy contraception instead of popping out one kid after another that they can't afford.
I got my contraception at PP for years while I had no insurance or bad insurance, and it was a very good deal for me economically. They were extremely helpful with regards to figuring out how to prevent my recurrent UTI's, when it was costing me $75 for the urgent care visit and $70 for the prescription every couple of months for the treatment of them.


Powered by CGISpy.com [3]


Thanks to Heather (blessedmom0508) for the beautiful signatures!


[4]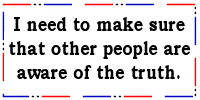 [5]

[6]

[5]



[7]
[8]
[9]
[10]