Our DD#1 is 4 and she has been quite spirited for the last two years. At first I marked it up to her being an expressive 2 year old, after that, I attributed her behavior to being pregnant then later losing our infant son at 4 days old (11/2008), then my husband had to return to an Army school. Then last year we got pregnant again, and Thalia was born 7 weeks ago. Well, I finally decided to seek family counseling to help us with our parenting, thinking her behavior issues where springing from poor parenting or lack of good strategies with her. Today when we saw the psychologist, he determined that she has ADHD. She is pretty off the charts in regards to her attention span being so short, her manic outburst, her inability to stay focused on something for more than a few seconds and how she will constantly wear us down for attention over certain matters.
I have seen that any toys we buy for her normally only lasted about 36 hours before being tossed aside. So much for the lovely pink kitchen we got her for her birthday! Plus, when we do ignore her tantrums and bad behavior, she calms down eventually. She will say excuse me and then ask "may I .....". If she does indeed have ADHD, then that explains so much to us and kind of makes it easier for us to cope with her behavior in a positive manner. However, the psychologist was a piece of work himself, but that's another story. We will be returning in 2 weeks to kind of assess the situation. I am doing it more for our understanding on how to handle Aidan and her moods. Compared to my oldest son (now 18) she can be challenging at times and not an easy person to get along with. Though, that does not change just how much we love her and everything about her! She is a lovely person when she decides to be and very intelligent and a fast learner.
So, I reckon I am looking for opinions and feedback on the "right" things to do for our DD (more like discipline, parenting, etc...). I am not trying to label Aidan to early or un-label her for that matter. She does attend preschool 3 half days a week in the 3's class (she has a January birthday, so will always be the oldest). DH wonders why her preschool teacher or babysitter did not pick up on the indicators. I feel that preschool teachers and babysitters for children this age are not looking for the signs and clues of ADHD and most are afraid of "labeling" them early on. I don't know - what are your thoughts on that as well. Thank you for reading!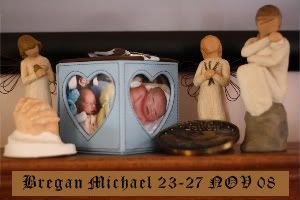 [2]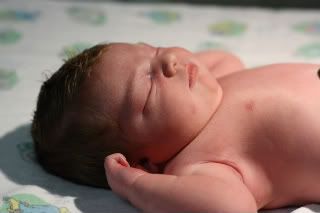 [3]
[4]
http://rememberingbregan.blogspot.com
[5]
/ Dianne Wife to Super, Awesome, No Limits US Army Officer - Matthew. Mummy to: DS - Dakota John - 18 yo., DD - Aidan Isabella - 4 yo., DS - Angel - Bregan Michael - 3 1/2 days old 11/23-11/27/2008, DD- Thalia Evan 1/24/10, 2 x Miscarriage Survivor 2003 & 2004.