See Related Photos
Photo Credit: Eric Liebowitz/NBC
"Still got it."
That's the slogan on the promo poster for The Michael J. Fox Show, which premieres with a double episode on Thursday at 9 p.m. ET on NBC. (Next week it moves to its regular 9:30 p.m. slot.) Watch the trailer here:
So what exactly has Michael J. Fox still "got"? Is it the flustered charm of Marty McFly in Back to the Future?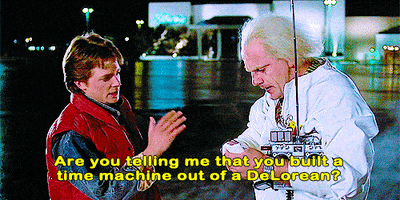 The earnest/adorable allure of Alex P. Keaton on Family Ties? Remember when Alex kissed Ellen (Tracy Pollan) while Billy Vera & the Beaters sang "At This Moment" on the jukebox? Goosebumps!
Maybe he's still got the gentle sarcasm of deputy mayor Mike Flaherty on Spin City? (Don't you love that he dated Connie Britton's character on that show?)
Is it the relatable honesty of a celebrity whose Parkinson's diagnosis in 1991 wasn't easy? (And how inspiring is his candid talk with Howard Stern about seeking help after he began self-medicating with alcohol? Check out a clip from the interview below.)
Perhaps it's the willingness, eventually, to laugh at his own debilitating disease on a Curb Your Enthusiasm guest spot...
… and to carry off an arc on The Good Wife about a lawyer who uses his illness to manipulate jurors?
Sure, any of these traits could be the "it" that Fox has still "got." But as far as it relates to The Michael J. Fox Show, the 52-year-old actor probably describes "it" best: "There's a lot of stuff that's relatable for everybody," he says. "It's just those familiar moments and emotional connections we make with our families."
In an art-imitating life scenario, Fox's news anchor character receives a Parkinson's diagnosis, quits his job, and drives his family crazy at home. Five years later, he returns to work, to everyone's great relief. "It's a reflection of my experience," Fox told reporters at a Television Critics Association meeting. "It's the way I look at the reality of Parkinson's. ... Sometimes it's frustrating, sometimes it's funny. I need to look at it that way. We all got our own Parkinson's, we all got our own thing. We'll look at it through the filter of that experience."
In other words, "a lot of stuff that's relatable for everybody." That's what attracted millions of fans to Back to the Future and Family Ties. No doubt it's what will draw thousands of viewers to Thursday's premiere of his new show.
Jennifer Graham Kizer is an Atlanta-based writer who covers pop culture and watches too much TV. Luckily, iVillage gives her an excuse to watch even more. Follow her on Google+.