See Related Photos
Photo Credit: Courtesy of RCA Records
Miley Cyrus has a new sound to go with that new look, and we finally get to hear it. On Monday, the 20-year-old singer visited Ryan Seacrest's radio show to premiere her new single, "We Can't Stop."

"This is a song that says where I'm at in my life right now," Cyrus told Seacrest. Hmm -- interesting. So what is Miley trying to tell us about where she's at in her life? Listen to the song below, then read on for our theories.

Here's what we're hearing Miley say between the lines of "We Can't Stop."

"I'm 20 years old, y'all!"
The new song is a full-fledged party anthem, one that would probably be playing at Miley's sorority parties if she'd gone to college. When she sings about "red cups and sweaty bodies everywhere," it doesn't sound like she's talking about the Chateau Marmont. She's just a normal 20-year-old girl at a normal party ... right?
Our Reaction: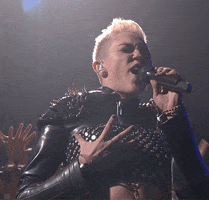 "Nobody can tell me what to do."
Miley has pushed the envelope with her music and videos before, but this is a pretty naughty song. There's a verse dedicated to "my homegirls here with the big butts/Shaking it like we at a strip club." She also describes "everyone in line in the bathroom/trying to get a line in the bathroom," which seems like a pretty unmistakable reference to cocaine, and refers to "dancing with molly" (slang for club drug MDMA). Obviously, this is Miley burning the last bridge between herself and her former squeaky-clean image. So long, Mickey.
Our Reaction: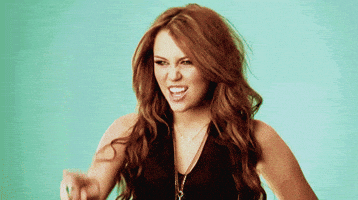 "Liam who?"
In Miley's party universe, "we can love who we want/we can kiss who we want/we can live how we want." If this song really represents "where she's at" in her life, what does that say about her engagement to Liam Hemsworth? Doesn't sound like that relationship is taking first priority (if, indeed, it's still on).
Our Reaction:


"I'm totally like Rihanna now."
We're imaging that quote in Vanessa Bayer's voice, FYI. Catchy as "We Can't Stop" is, it doesn't have those country influences that showed up in her past songs, or anything that establishes a distinctive Miley sound. In fact, we're guessing that many people hearing it on the radio for the first time will think it's Rihanna singing. But if we had to compare it to another pop song, we'd probably pick Ke$ha's "Don't Stop." This is definitely the arena she's trying to enter. Will this song -- and the provocative album art, featuring a nearly-naked Miley -- do the trick? Or does Miley have further to go before she proves herself to be a true pop diva?
Our Reaction: