Photo Credit: Cameron Whitman, Getty
Do you have need for speed…reading? If so, this reading test that is being shared everywhere this week, is just for you.

The challenge: Read a short, timed passage as fast as you can. At the end it will compare your reading pace to the national average. And it's not just for bookworms -- this test has accumulated 70,000 likes on Facebook.

But skimmers beware. After the passage has been completed, readers will be quizzed on its contents. Eventually you'll be placed in a category based on how many words you read per minute (WPM).

Here are the rankings:
3rd grader- 150 WPM
Average adult- 300
Average college student- 450
High level executives- 575
College professors-675
Speed Readers- 1500

The test is actually a clever marketing tool to help Staples promote e-readers, with the results calculating how many books you can finish on your e-reader before having to recharge the battery.
And if your score isn't stellar the first time, don't sweat. You can click the options tab in the top right corner to retake the test by reading a different passage.
Also, no pressure, but the world's fastest speed-reader clocks in at 4700 wpm. Let that sink in for a second. Try it for yourself below!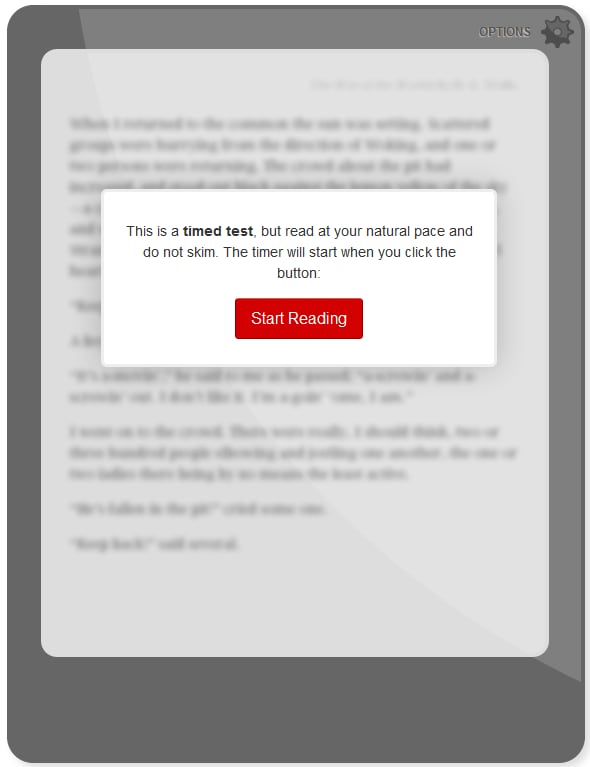 Source: Staples eReader Department